Carole King Tapestry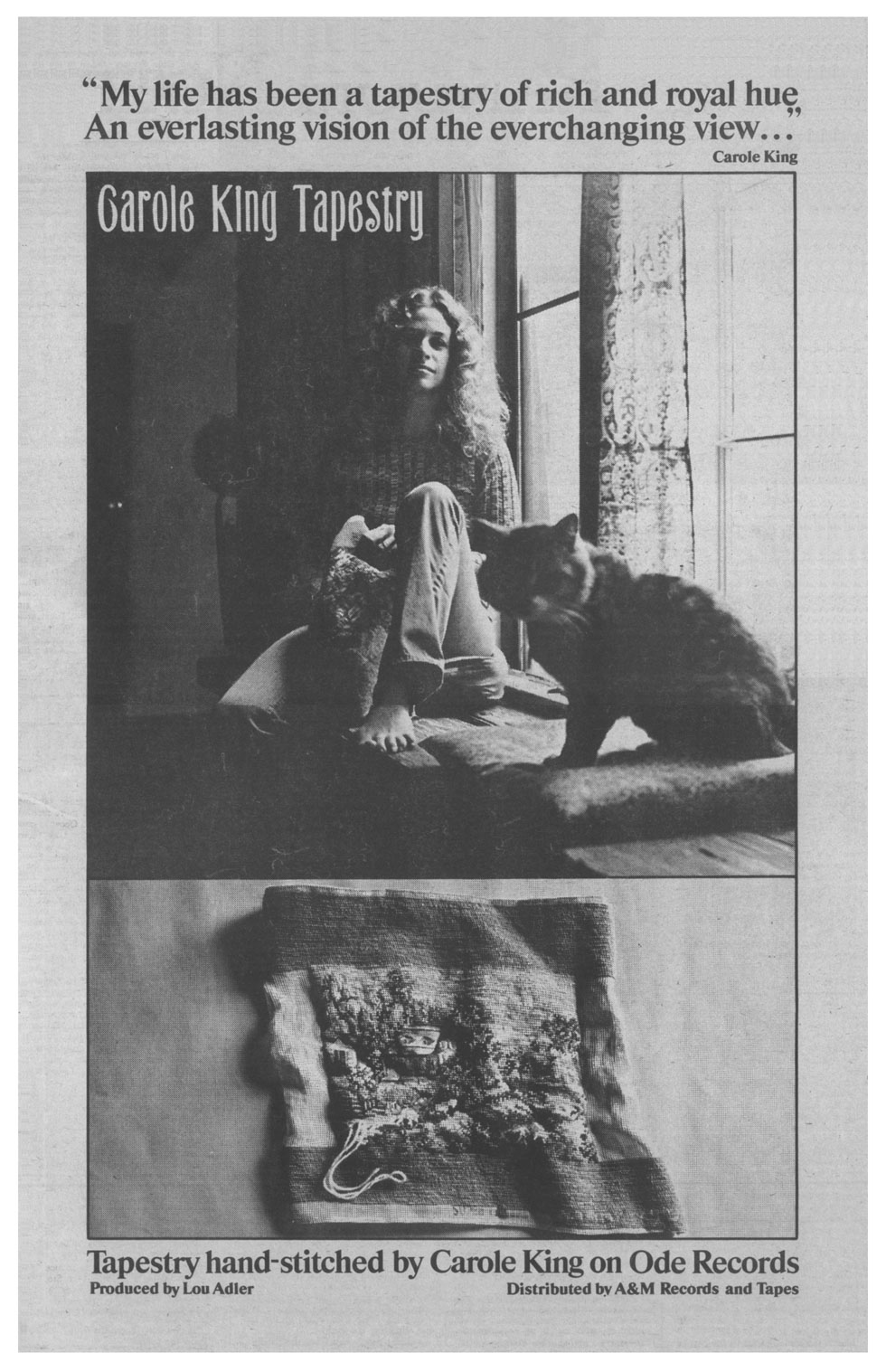 1. Carole King
2. Tapestry
3. Track listing
4. Lyrics
5. Links
Carole King
Carol King was born Carol Joan Klein in February 1942 into a Jewish family, and was brought up in Brooklyn. She was encouraged to be musical from a young age, and while still at high school, she showed her musical ambition when she changed her name to Carole King, formed a vocal group, and made some demo records with Paul Simon. At Queens College she met
Gerry Goffin
; then, in 1959, when still 17, fell pregnant, got married and dropped out of college. King's first released recording was
The Right Girl
in 1958. A song she wrote and sung herself. The arrangement was by
Don Costa
, A&M's chief arranger, who would go on to work with Frank Sinatra. In her early teens she had dated Neil Sedaka who later introduced her to
Don Kirshner
, who signed her up as a part-time staff writer for
Aldon Music
at 1650 Broadway opposite the
Brill Building
. Sedaka had a hit in 1959 with "
Oh! Carol
", to which Goffin wrote a humorous but unsuccessful "answer song", "
Oh! Neil
", which King sang. Holding down day jobs. Goffin and King worked in a cubicle office at Aldon Music in the evening, writing songs. However, after writing "
Will You Love Me Tomorrow
", which topped the American charts in 1960 in a recording by
the Shirelles
, they were able to give up the daytime jobs in order to concentrate on writing. The story is that on hearing the song, before it was even recorded, Kirshner gave King two cheques for $10,000 - one for her and one for Goffin, and King went round to the science lab where he worked, and told him to take off his lab coat, as they wouldn't need to do their day jobs any more!
During the sixties, with King writing the music and Goffin the lyrics, they wrote a string of classic songs for a variety of artists, such as "
Take Good Care of My Baby
" for Bobby Vee; "
Up on the Roof
" for the Drifters; "
Chains
", covered by the Beatles; "
The Loco-Motion
" for their baby-sitter Little Eva; "
It Might As Well Rain Until September", which King recorded herself - her first (and only Sixties) hit;
"
I'm into Something Good
" for Herman's Hermits; "
Pleasant Valley Sunday
" for the Monkees; and "
(You Make Me Feel Like) A Natural Woman
" for Aretha Franklin.
At the end of the Sixties King and Goffin divorced, and effectively stopped writing together. King moved to Laurel Canyon with her two daughters, meeting up with
James Taylor and Joni Mitchell,
and formed a short-lived group, the City, with her future husband, Charles Larkey. They recorded one indifferent album
, Now That Everything's Been Said, which was quickly deleted. She then worked with Taylor on the iconic Sweet Baby James
album, and the global hit single "Fire and Rain", playing piano and adding backing vocals. In 1970, she made her first solo album Writer, with Taylor playing guitar and providing backing vocals. The album, consisting mainly of Goffin-King songs, wasn't a success, but then, bringing in Joni Mitchell, Taylor and King worked simultaneously on Taylor's Mud Slide Slim album, and King's Tapestry album, both of them recording their version of King's "You've Got a Friend". King said of the song that she "
didn't write it with James or anybody really specifically in mind. But when James heard it, he really liked it and wanted to record it. At that point when I actually saw James hear it, I watched James hear the song, and his reaction to it, it then became special to me because of him, you know, and the relationship to him. And it is very meaningful in that way, but at the time that I wrote it...again, I almost didn't write it. When I write my own lyrics, I'm conscious of trying to polish it off, but all the inspiration…really comes from somewhere else. That was because his album
Sweet Baby James
was recorded the month before
Tapestry
was recorded, I think, or even possibly simultaneously. Parts of it were simultaneous. And it was like
Sweet Baby James
flowed over to
Tapestry
and it was like one continuous album in my head, you know. We were all just sitting around playing together, and some of them were his songs and some of them were mine." (When she talked of
Sweet Baby James
she meant
Mud Slide Slim).
That sequence of recording together from Sweet Baby James to Tapestry was significant. Together, Taylor and King became the new face of singer-songwriting: a homely, familiar, intimate, almost confessional style of writing and performing, that captured the mood of the times, and attracted a new and increasingly powerful audience: women. Their friendship has endured the years, and they have performed and recorded together since reuniting in 2007 for an anniversary concert at The Troubadour, where they had first performed together in 1970.
King's follow-up album
Music
, was in the same style as
Tapestry
, and sold well, but didn't transcend in the way that Tapestry did. King has continued to write, record and perform, though has never again quite captured the feel of
Tapestry
.
Tapestry
The lyrics of the songs, some new written by King, some old - written by her husband Gerry Goffin in the Sixties, unite together like a tapestry to weave a picture of a woman at that point in time, when women were starting to develop a new voice and image for themselves. As this was still the start of the Seventies, that voice was not as strident as it would become, but was poised between being womanly and feminine and creative and loving, and being confident and independent - a position that women appear to have returned to today and find most comfortable.
Her voice is direct, honest, clear, a little strident at times, but somehow that makes it more real. It's a very approachable voice: warm without being gushing; not polished or professional, the voice of a song-writer doing a demo. While not refined, distinguished, or clever, it is a familiar and attractive voice. The perfect voice to carry her own songs, giving them an immediacy and intimacy and familiarity that is invaluable, and part of the success of the
Tapestry
album. The warm, loose production, which puts emphasis on King's voice and piano, helps the intimacy. The production, however, is more complex than first appears - it is subtle and clever, using a range of instruments and voices to support King in a warm, jazzy style, exemplified well on "It's Too Late".
Songs
Side One
"I Feel the Earth Move"
The opening track is a fast, rocking song, with rolling, fast piano and a steady drum beat sung in a simple. direct voice that occasionally can't manage what King wants of it. The openess and honesty of that, the vulnerability of the limitations, and the feel of this being a demo is very engaging. It's fresh and inviting, and prepares the listener for what will be a warm, low key, tender, intimate and honest feeling album.
"So Far Away"
"So Far Away" is a folky, country-rock piece, played with sparse production and sparse instrumentation, with flute and bass giving something of the feel (but not the touch or depth) of Astral Weeks.
"
It's Too Late
"
"It's Too Late" was released as a single, and became a number one hit. Though Tapestry is mostly noted for the songs as conveyors of lyrical content - and that had been King's role during the Brill Building years, finding the tune to Goffin's words - "It's Too Late" is noteworthy for the instrumental break near the end. There was an interest among rock music writers in 1971 for jazz fusion, and for a groovy, Latin influenced form of what would become known as smooth jazz. King, also, has that interest, and there is a atmospheric section of guitar and piano exchange that is cool and smoky, and really swings. It fits in well with "
Can't You Hear Me Knocking
" by the Rolling Stones, "
Oye Como Va
" by Santana,
"The Low Spark of High Heeled Boys
" by Traffic, and "
Riders on the Storm
" by the Doors - all recorded around the same time.
Track Listing
Complete album on YouTube
01
00:13
"I Feel the Earth Move"
02
03:11
"So Far Away"
03
07:03
"It's Too Late"
04
10:55
"Home Again"
05
13:21
"Beautiful"
06
16:25
"Way Over Yonder"
07
21:10
"You've Got a Friend"
08
26:15
"Where You Lead"
09
29:31
"Will You Love Me Tomorrow?"
10
33:39
"Smackwater Jack"
11
37:18
"Tapestry"
12
40:29
"(You Make Me Feel Like) A Natural Woman"
Lyrics
It's Too Late
Stayed in bed all morning just to pass the time
There's something wrong here, there can be no denying
One of us is changing, or maybe we've stopped trying
And it's too late, baby, now it's too late
Though we really did try to make it
Something inside has died and I can't hide
And I just can't fake it
It used to be so easy living here with you
You were light and breezy and I knew just what to do
Now you look so unhappy, and I feel like a fool
And it's too late, baby, now it's too late
Though we really did try to make it
Something inside has died and I can't hide
And I just can't fake it
There'll be good times again for me and you
But we just can't stay together, don't you feel it too
Still I'm glad for what we had, and how I once loved you
But it's too late, baby, it's too late
Though we really did try to make it
Something inside has died and I can't hide
Links
In Concert for the BBC 1971
Songs:
"I Feel The Earth Move";
"(You Make Me Feel Like) A Natural Woman";
"So Far Away" (with James Taylor and Charles Larkey - her husband);
"It's Too Late" (with
Danny Kortchmar
and Charles Larkey);
"Smackwater Jack;
"Will You Love Me Tomorrow?"/"Up On The Roof"
Interview:
A Conversation with Carole King
Articles
Troubadours: Carole King / James Taylor & The Rise of the Singer-Songwriter
BlogOnTheTracks: Revisiting Carole King's Tapestry
Rolling Stone
Contemporary Rolling Stone review
All Music Review (Rating: 5/5, Album Pick)
Wikipedia
Other reviews
SuperSeventies
Facebook