1. The route
2. The lyrics
3. Selected covers
The route
"Louie, Louie" by The Kingsmen is a rock classic - a piece of enthusiastic trash that has inspired a raw, bold and energetic approach to performing that underlies most rock music from 1963 onwards.The song has now been covered over 1,600 times -
more than any other song
, and while The Kingsmen's version is the one that is believed to be the original - there were two versions before that, and even they were based on an earlier song. This is the route to The Kingsmen's "Louie, Louie".
It starts in the early 1950s when Cuban bandleader Rosendo Ruiz Jr. wrote "Amarren Al Loco"
.
In 1955 a version of "Amarren el Loco" was recorded by Cuban pianist
René Touzet under the name
"Cha Cha Cha Loco"

in a new arrangement with the
distinctive
"1-2-3 1–2 1-2-3 1–2" beat that is the heart of "Louie, Louie":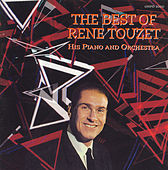 Richard Berry, an African American doo-wop singer-songwriter, performed the song while singing with
Rick Rillera and the Rhythm Rockers. Moved by the rhythm of the tune, and by the lyrics of
Frank Sinatra
's "
One For My Baby
", and
Chuck Berry
's "
Havana Moon
", one night in 1955 Richard Berry sat backstage and wrote "Louie Louie" on a roll of toilet paper. He released the song in 1957:
The song had a modest local success, but nothing significant, so in 1959 Berry sold his rights to the song to pay for his wedding.
In 1961,
Seattle based Rockin' Robin Roberts recorded the song with The Fabulous Wailers.
This version was also only a modest local success.
Two years later, in 1963, Portland based band
The Kingsmen
recorded and released their version, based on The Wailers version. It was recorded with a number or errors and awkwardness - including that the singer had teeth braces fitted just the day before, and that vocal mike was set too high, and that he came in too early for one verse. The song became a hit, and was much copied and covered. Part of its success is due to the mistakes and awkwardness, which lend the recording a raw, earthy energy, a tumbling enthusiasm, and an honest joy. The slurring of the lyrics gives the song a mystery, and propelled rumours about what the lyrics were really about. Complaints by the public about possible obscene prompted the FBI to conduct an investigation - the files of which are
available to view on the FBI website
. The investigation didn't lead to any prosecution, as the band are attempting to sing the original lyrics - though there are three versions of the "obscene" lyrics in circulation. They are the lyrics written down "as heard", and then passed on. The most common of these "obscene lyrics" is given below.
While the lyrics are not obscene, this is the first recording of a song that I am aware of in which the word "fuck" is used. There was a main mic above the band as they were playing, and that picks up the vocals and most of the music. It also picks up additional sounds and comments - such as drummer Lynn Easton saying fuck when he miss-hit his sticks
at the start of the second verse
- around 56 seconds in.
Mike Mitchell's guitar break at 1.28, just after singer Jack Ely shouts: "Let's give it to them right now!" is pure teenage rock dreams. Youthful enthusiasm winning out over talent, ability and technique. It is the role model for all that rock music stands for - and all that Punk aspired to, but didn't quite manage to capture in just the right way. And it's so fitting - so wonderfully teen band - that just after that break, singer Ely comes in with his vocal too early, realises and stops just as the rest of the band try to catch up, and Easton covers it all up with a quick, short drum roll, and they all tumble back into it - no doubt grinning at the adrenalin of it all, and how clever they were to recover. This was a one take recording. And each mistake, stumble, and "fuck" has been recorded for all time.
Play it fucking loud! This is insane music.
I wondered if The Kingsmen's version of "Louie, Louie" was the first to include "fuck", but on researching I found something way earlier - and way more explicit. Lucille Bogan 's 1935 recording of Shave 'Em Dry. Be aware - VERY explicit!
"Louie, Louie"

Louie, Louie, oh no
Me gotta go
Aye-yi-yi-yi, I said
Louie, Louie, oh baby
Me gotta go

Fine little girl waits for me
Catch a ship across the sea
Sail that ship about, all alone
Never know if I make it home

Three nights and days I sail the sea
Think of girl, constantly
On that ship, I dream she's there
I smell the rose in her hair.

Okay, let's give it to 'em, right now!

See Jamaica, the moon above
It won't be long, me see me love
Take her in my arms again
Tell her I'll never leave again

Let's take it on outa here now
Let's go!!

Obscene version

Oh, Louie Louie, oh no
Get her way down low
Oh, Louie Louie, oh baby
Get her down low

A fine little girl a-waiting for me
She's just a girl across the way
We'll take her and park all alone
She's never a girl I lay at home

At night at ten I lay her again
Fuck you girl, oh all the way
Oh my bed and I lay her there
I meet a rose in her hair
Okay, let's give it to them right now!
She's got a rag on I'll move above
It won't be long she'll slip it off
I'll take her in my arms again
I'll tell her I'll never leave again
Get that broad out of here!
Let's go!
"One For The Road"
It's quarter to three,
There's no one in the place 'cept you and me
So set em up Joe
I got a little story I think you oughta know
We're drinking my friend
To the end of a brief episode
So make it one for my baby
And one more for the road
I know the routine
Put another nickel in that there machine
I'm feeling so bad
Wont you make the music easy and sad
I could tell you a lot
But you gotta be true to your code
So make it one for my baby
And one more for the road
You'd never know it
But buddy I'm a kind of poet
And I've got a lot of things I wanna say
And if I'm gloomy, please listen to me
Till it's all, all talked away
Well, that's how it goes
And Joe I know you're getting anxious to close
So thanks for the cheer
I hope you didn't mind
My bending your ear
But this torch that I found
It's gotta be drowned
Or it soon might explode
So make it one for my baby
And one more for the road
"
Havana Moon
"
Havana moon, Havana moon
Me all alone with jug of rum
Me stand and wait for boat to come
It's long the night, it's quiet the dock
The boat she late since 12 o'clock
Me watch the tide easin' in
Is low the moon, but high the wind
Havana moon, Havana moon
Me all alone, me open the rum
It's long the wait for boat to come
American girl come back to me
We'll sail away across the sea
We'll dock in New York, the buildings high
We'll find a home up in the sky
Havana moon, Havana moon
Me still alone, me sip on the rum
Me wonder where the boat she come
To bring me love, ow! Sweet little thing
She rock and roll, she dance and sing
She hold me tight, she touch me lips
Me eyes they close, me heart she flip
Havana moon, Havana moon
But still alone, me drinkin' the rum
Begin to think the boat no come
American girl, she tell a lie
She say till then, she mean goodbye
Havana moon, Havana moon
Me lay down alone, was good the rum
Me fall asleep, the boat she come
The girl she look till come the dawn
She weep and cry, "Return for home"
The whistle blow, me open me eyes
Was bright the sun, was blue the sky
Me grab me shoes, me jump and run
Me see the boat head for horizon
Havana moon, is gone the rum
The boat she sail, me love she gone
Havana moon, Havana moon
Led Zeppelin
Iggy Pop
The Kinks
The Sonics
The Beach Boys
The Clash
Grateful Dead
Motorhead
Toots & The Maytals
Black Flag
Ike & Tina Turner
Fat Boys
The Stooges
Frank Zappa & Howard Stern
102 April 2019